Zagat diners voted Bones

best restaurant in Atlanta 2016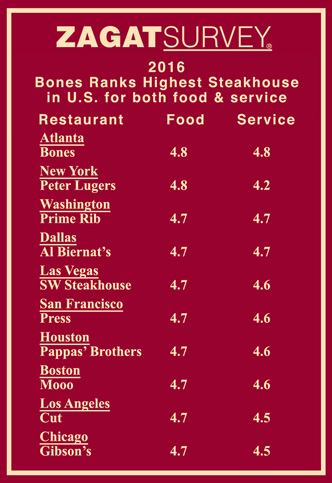 Zagat Survey
"Bring a big appetite...to this ridiculously decadent power steakhouse that beats those national chains hands down... the staff will make you feel like an old friend who has been away to long. Zagat diners voted it the best restaurant in Atlanta 2016."
The New York Times
"Bones . . . for the best steaks and lamb chops in the Southeast"
Atlanta Magazine
Voted best steak house in Atlanta 18 years in a row
"Atlanta´s Best Steak House. Virtually in a class by itself."
USA Today
"Bones . . . listed Top 10 steak houses in USA"
"This old-school cathedral of steak with a private club feel in Buckhead is renowned for phenomenal chops cooked to perfection and an epic wine list server by a stellar team."
Mobil Travel Guide
"Bones . . . Three star rating in the Trusted Travel Advisor"
GQ
"The Great Steak-Out . . . In stalking the country for the nations top steakhouses, our quest led us to Atlanta in-spot Bones"
Best Of Atlanta
"The place runs like a German automobile fresh off the assembly line. You don´t see the mechanics; you just feel the rush."
Atlanta Business Chronicle
"Bones has achieved enviable status and universal critical acclaim. It has become more than a restaurant. Bones has become an institution."
DiRoNA
"Bones . . . Distinguished Restaurants of North America"
Simply Buckhead
"Regarded as one of the finest dining establishments in Atlanta, Bones recently solidified that reputation by earning Zagat's highest rating for service and food of any steakhouse in America"
The Atlanta Journal-Constitution
Meredith Ford, Food Critic "I realized why Bones has become the institution it has in Atlanta. It´s not the big, fat, well-cut steaks . . . It´s not the never-ending, well-chosen wine list. It´s not even the grit fritters and hash browns, which are menu must-haves. It´s the staff . . . Bones´ old-fashioned, personalized service is a dying breed."
Travel & Leisure
"Bones, so much a part of Atlanta that no survey of hot places would be complete without it"
Wine Spectator
"Bones . . . Best of Award of Excellence"
Georgia Trend
"What does Atlanta´s best steakhouse, Bones, say about the city´s business realm? That it´s been booming for more than a quarter-century."
Independent Cattleman´s Assoc.
"Bones . . . listed Great Steak Houses of North America"
Gourmet
"Bones . . . voted reader´s choice for America´s Top Tables"